I wasn't so sure if I was gonna tag this post as Men Solutions or not. But since the product isn't really labelled FOR MEN, I decided not to.
The thing is, my boyfriend is the one who uses this product. I also tried it myself for more than a week to see how it'll work for me.
To start with, my boyfriend's been looking for a sunscreen that won't irritate his skin. He's been on a hunt for quite a while now, and he's tried a lot of products that didn't work for him. He's tried so many different brands and they usually broke him out, which is not good at all. He almost gave up and he didn't want to use sunscreen anymore because of the pimples. But I still convinced him to keep trying, telling him that
sunscreen is an important part of our skin routine
because it serves as a protection from harmful rays that can cause sunburn, skin cancer and pre-mature aging.
JUMP!
Luckily, I had with me a sample sachet of
Laneige Sun Block Oil-Free SPF 35 PA++
, I asked for the sample when I bought the
Multiberry Yogurt Peeling Gel
because I really wanted to try it first and see if it does not irritate me before I buy full size.
I still have my
Anessa sunscreen
(which I like), so I gave the sample to my boyfriend for him to try and see if he likes it. I kind of thought that it might work for him because it's oil-free. And he usually hates sticky sunscreen so I thought it was another plus that it's non-greasy.
I think the whole sachet lasted him for a week. And when he ran out of the product, he wanted to purchase the full size bottle.
- Oil-free formula gives matte touch without oily or shininess giving a light usage feeling.
- Silicon polymer ingredients hide pores and silky powder with excellent sebum absorptive power absorbs sebum, maintaining sleek and refreshing skin tone.
- Clove oil and herb extracts control sebum secretion and soothes skin tone, leaving skin feel clarified and healthy.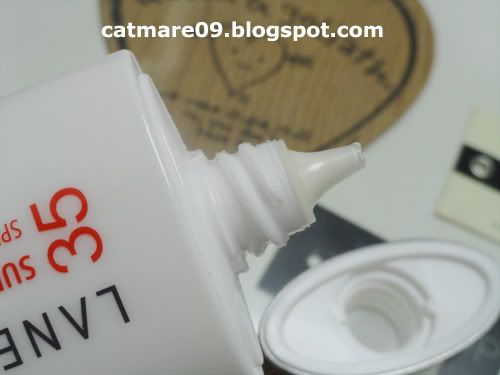 I like the packaging. The nozzle is hygienic and it's easy to control the amount of product that's coming out of the bottle.
How it worked for HIM
No breakout. He is currently pimple free. He likes that it doesn't turn his face into a grease ball. He does not mind the price (PHP 1250) either. He's had it for about 4 months and a lot of product is still left.
Definitely worked so well. He wouldn't be purchasing the full sized bottle if he didn't like it, right? :D
How it worked for me
I only transferred a small amount in a jar for me to try. I was able to use it for more than a week.
The product has a light scent to it. It's not like the same old sunscreen scent and it goes away after awhile so it does not bother me. The texture is kind of watery. I like that it's lightweight and how it absorbs quickly into my skin. It's non-sticky and it almost feels like I'm not even wearing sunscreen. Just the way I like it! Oh and no breakout for me either.
I think this is an amazing sunscreen. I just wish it had a higher PA... But when I run out of my
Anessa sunscreen
(and if I can't repurchase it anymore since it's not available from where I live), I'd definitely go for
Laneige Sun Block Oil-Free SPF 35 PA++
.
Rating: Almost Excellent Kitty! (I would rate it Excellent if only it had a higher PA. But other than that, hands down to this sunscreen!)