Hands down to Anessa Perfect Essence Sunscreen SPF 50+ PA+++ (Shiseido). This is probably my favorite sunscreen of all time. I found this little baby on our way home from our trip to Japan. I was looking around the Duty Free area and saw this sunscreen. They come in three variants. The yellow one was for outdoor sports, the white one has pearl effect and this blue one is for everyday use. Well, that's what the SA told me. I asked her because I couldn't understand what's on the packaging cos it was all Japanese. I only got the small travel size one because I wasn't sure if it was gonna work for me. I have sensitive skin, and a lot of times I get red bumps from skin products. So I thought I'd try the small bottle first, cos it might irritate me. But now I regret! This sunscreen is just amazing. How I wish I can go back and get the big bottle and maybe even 3 more backups. lol.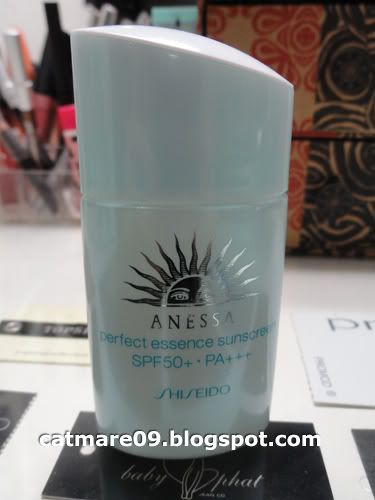 I love the packaging, it won't spill if you carry it on your luggage. It's also very hygienic and you can control the amount of product coming out of its nozzle. You have to shake it first before you use it.
And here's the best part: it's lightweight, non-sticky, fragrance-free, and it did not irritate my skin! I love love love the texture, it's almost watery. And when I apply it on my face, it feels silky smooth and no white cast. It's like I didn't even apply sunscreen. My skin can breathe.
This is just the perfect sunscreen for me. I'd definitely repurchase! But sadly, it's not available locally... I wonder if I can find a sunscreen as good as this one. =(
Rating:
Excellent Kitty!