What's on the bottle:
exfoliating cleanser that provides immediate resurfacing benefits
a 30-second cleansing mini peel that can be conducted in the shower, in the bath or at your bathroom sink
regular exfoliation helps buffer fine lines, even skin tone and give the skin a healthy glow
gentle enough for daily use
(photo below. microdelivery exfoliating wash on the left of the photo)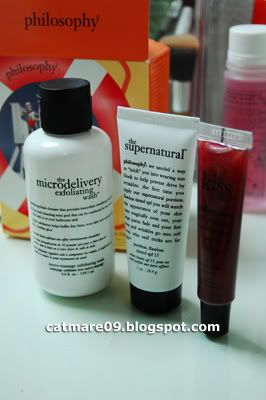 Before I used this product, my forehead just started breaking out a few months back and I don't know why. Maybe it's the weather? I never had much pimple before. Just very seldom. Usually I just get a few whiteheads on my nose area but lately it seem like they've evacuated from my nose to my forehead. And what's worse is that they grow into pimples. And it seem like they won't go away! *sigh*
So yeah, I was hesitant to start using it because I didn't want to start using any new skin care product on my face that might cause more irritation and worsen my skin condition. But I did anyway. My sister has her own bottle of this and she told me how much she liked it. So there, I thought maybe it will help my skin. Before I started using this, I had a few bumps and pimples on my forehead. I use this everyday. Every morning in particular. Here's what I think about it:
Gentle enough for everyday use. The texture is not abrasive at all.
It lathers up really well.
It doesn't dry or tighten my skin after using it.
I know I mentioned in my previous review that Clinique Turnaround Concentrate really made my skin glow. Don't worry I still love that product. But I haven't been using it for a few months now as I ran out of the bottle already and I haven't had the chance to repurchase it again... But anyway, with this exfoliating wash, it actually did also gave my skin a healthy glow.

Believe it or not, with the first two weeks of using this product, I noticed that the pimples on my forhead dried up. As of this moment, while I'm typing this. my forehead is pimple free. Although not perfectly bump free. I can still feel a few tiny bumps. But still, I am VERY happy that this product actually helped with my pimple problem. I don't even think this product contains salicylic but it did made my pimples go away. Maybe it unclogs my pores and gets rid of my dead skin really well or something.
I'm a sucker for anti-aging products so that's another plus for me.
So yeah, that's all. All I can say is that I am very pleased with this product. The result is just... amazing. I am definitely going to repurchase this!
Rating:
Very good kitty!