I found this eye brow stencil from Saizen a few days ago. The stencil consists of four shapes: Elegant, Classic, Delicate and Glamorous. I wasn't exactly convinced at first if I should get this or not. I didn't know if I really needed it in the first place. And it costs PHP 85, which I thought was expensive for a piece of plastic.
My bf was with me that time and I asked if I should get it or not. He told me it could be useful and that I should just get it. And yes, I bought it and I have tried and tested it for a couple of times already.
JUMP!
Like I mentioned earlier, I honestly didn't know if I actually needed this. I mean, I have my brows threaded every once in a while and I just follow and fill in the sparse areas with my brow pencil/kit. It's not really difficult. But on a day like today, when my brows have started to grow back, it is kind of difficult because my brows start to lose their shape. And so I thought this stencil could help.
My eye brows have started to grow already. It's been more than a month (I think) since my last threading. So as you can see, brows started to grow everywhere. Here's how it looks like right now. Sorry if my hair is everywhere. I didn't notice when I took the picture. :D
Among the four stencils, my brow shape is Delicate. I carefully positioned the stencil on my brow using one hand. With the other hand, I filled my brows first with my Maybelline Brow Pencil and then I topped it with darkest shade from my Etude House Brow Kit.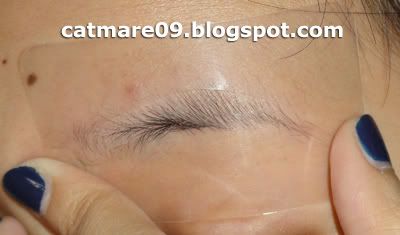 See how nice it looks! This may look too harsh for some of you. You have the option to brush it as much as you like to make it look more natural.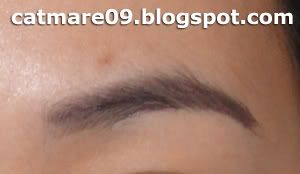 After brushing, here's how it looks.
I thought before that it was useless and that I didn't really need one. But now, I think it's a must have. I am actually thinking of getting another one just because I'm afraid it won't last long or it might rip apart easily because it's just made of plastic. IDK yet. I'm still thinking if I should. Something at the back of my head still tells me that PHP 85 is a bit expensive for a piece of plastic. Haha! What do you guys think?
Rating: Very good