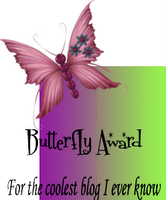 First of all I would like to thank
Jackie
for giving me the Butterfly Award.
Rules: Write something about yourself and link it back to the one who sent it to you and then pass it on to 7 people.
About Me:
- I guess I've said this before and I'll say it again. I am a cat person. I just love cats. I have two cats at home. Both are adopted. I also collect anything that has a cat in it. Figurines, collectibles, etc.. But I do like dogs, too.
- I like to eat a lot at night. Chips and chocolates. I don't know but this is what usually happens. I crave for something sweet, I eat something sweet. After eating something sweet, I crave for something salty, so I eat something salty. And after that I'll crave for something fruity or maybe sweet again. lol. It just goes on and on.
- I love the cold and gloomy atmosphere when it rains. And when it does, I like to stay at home. Just lazying around watching or listening to music that reminds me of my younger years. lol.
So I guess that's all. I would like to pass this award to 5 bloggers:
-
Codename Aya
-
Kitten
-
Sugar
-
Debi
-
Jessy
Thanks for reading :)