From my previous
Topshop haul
, I was asked if I'm going to show how I'd wear the paperbag waist skirt that I got.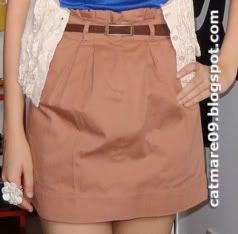 I wasn't really sure if I was going to, but today I decided to get some pieces from my closet and put them together. And here's what I came up with.
See the complete look after the jump!
Oh. I just want to say that I'm no fashion expert. So please don't laugh at me. :)
I just wore it with a blue sleeveless top and a cream colored lace vest. For the shoes, I'm wearing this cream colored flat peep toes. I also added some accessories to finish the look.

Here's how it looks at the back. I love this lace vest. I got it from my last Singapore trip. It's probably my current favorite clothing piece. I love the bow behind. I think it looks super cute and sweet. :D
So that's all for this post. Have a great week ahead!