Hi everyone! I just thought I'd make a haul post of the beauty stuff I got from Singapore. Mostly they are makeup stuff. I kind of regret not getting any skin care product (aside from the Neutrogena facial wash). I won't be posting the clothes I got from my trip because they all are now in the laundry.. Anyways here they are!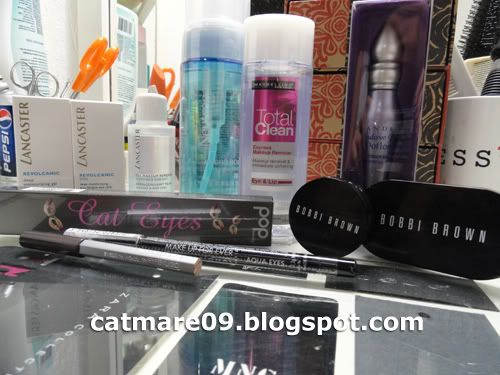 Neutrogena Hydro Boost Mousse Cleanser
- a gentle hydrating cleanser. Rich, cushiony lather effectively foams away impurities, while a special hydrating agent adds back moisture so skin remains clean and soft.
Maybelline Total Clean: Express Makeup Remover
- makeup removal and immediate softening. (I'm not sure if we have this in the Philippines, but I haven't seen one before so I thought I'd try it.)
Maybelline Eyebrow Pencil by Eyestudio
- in grey
Bobbi Brown Corrector
- in peach

Bobbi Brown Concealer Kit
- in beige
Urban Decay Primer Potion
Pop Beauty Cat Eyes
- go from I don't know how to MEOW! lol.

Makeup Forever Aqua Eyes
- in black
My mom bought some things from Lancaster and the nice lady from the counter gave her a lot of samples. She also gave me these 3 Lancaster samples.
Revolcanic deep moisturizing gel, Revolcanic Eyes deep moisturizing anti-fatique eye care, Eye Makeup Remover Soothing & Non-Oily.
I have never tried any Lancaster product before so I am really excited to try these samples. :)