A few weeks ago, I started having pimples on the left part of my forehead. I don't even know the reason why. First, there was one pimple, the next few days there were three! I panicked.
And around those days, I ran out of my favorite all-over face makeup remover which is the
Neutrogena Deep Clean Makeup Remover.
So I thought maybe it's because I haven't been able to clean my face thoroughly the past few days. I didn't have a makeup remover for my face so I just washed my face twice. I went everywhere looking for it for weeks (I think it's been months now) but it's out of stock. So I went ahead and looked for another makeup remover for my face.
I saw
Loreal De maq Expert Cashmere Milk Expert Make up Remover
, and it looked promising.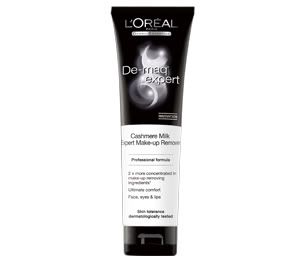 So yeah, I was desperate and without any second thought I bought it. The first time I used it, the smell made me nauseous. I think it smelled flowery and was just too overpowering. I'm just not really into flowery smells like this. So that's a minus for me already.. After application, I noticed it being too greasy. I felt my skin was suffocating from it after application, I couldn't wait to wash it off. I hated the feeling on my face plus the smell. Ugh. I don't think it worked for me. After a few days of forcing myself to use it just because I badly needed a makeup remover, it gave me a couple of tiny little bumps on my forehead. And the pimples were stil there =( I love Loreal's lip & eye makeup remover, so I expected this to work for me as well. But too bad it didn't. I'm not saying it's a bad product you should stay away from, it was just my experience. It might not work for me, but it could work for others..
Rating:
Bad Kitty =(
And so the search went on. I went to The Face Shop one day and checked out their cleansing wipes. They had different kinds, but I got particularly curious and interested with the
The Face Shop Herb Day Cotton - Perfect Cleansing Wipes with Tea Tree
. It was pricier than the other cleansing wipes. I think it's around PHP 345 or PHP 395. The pack has 50 sheets. It's quite pricey but it has more benefits from the other cleansing wipes. First of all it has tea tree that helps control blemishes as it cleanses and clears pores.
The cleansing wipes also came with the new exfoliating mesh cloth for deeper cleaning and to remove excess sebum while removing makeup.

It comes in a resealable pack to prevent the cleansing wipes from drying.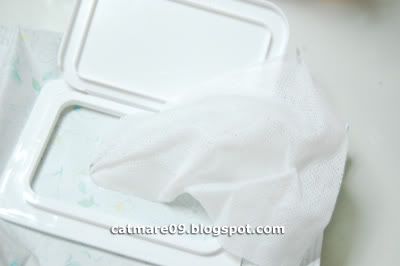 So what do I think about it? I love it! Every time I use it, my face feels so refreshed. No greasy icky feel. I love the smell, nothing flowery. It smells like tea tree which is okay with me. I actually think it smells so fresh. I also love the mesh cloth, I feel like it's really giving my skin a deeper clean. After days of using this, my pimples finally started to dry up. I guess this really helped (along with my Clinique spot healing gel). I am almost finished with my first pack and I am definitely going to be repurchasing again soon =)
Rating:
Good Kitty!