I've been wanting to get an Urban Decay palette for so looong. I know their palettes are all so bright and colorful (and I wear more neutral) but I just love their cute packaging... I originally wanted to get the Ammo palette, but I've been reading reviews of how glittery it is. So I stayed away from it. But then, Urban Decay came out with it's second volume of Book of Shadows. And I read reviews that the palette is not as glittery as the previous ones and I also noticed at that it came with a lot of neutral colors, too. So yep, I went ahead and got it. =)
Here are pics and swatches: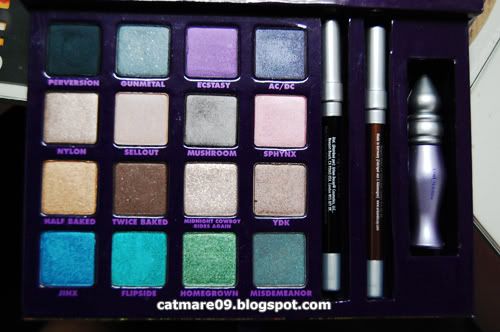 The swatches: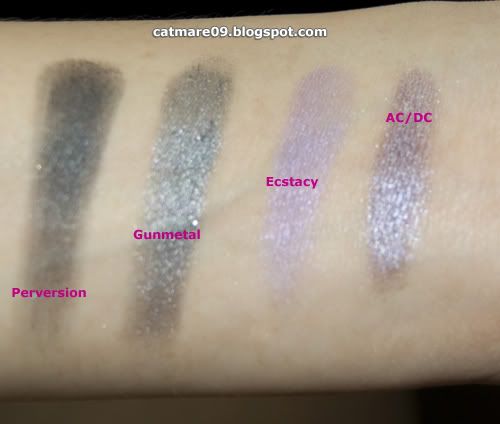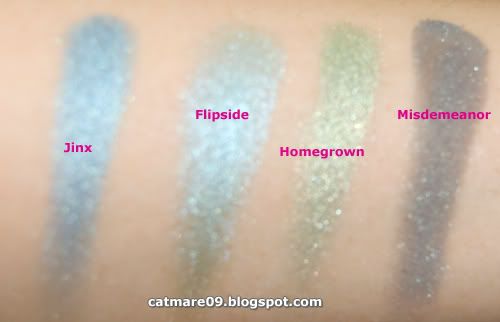 And it came with a primer potion and 2 24/7 eye pencils: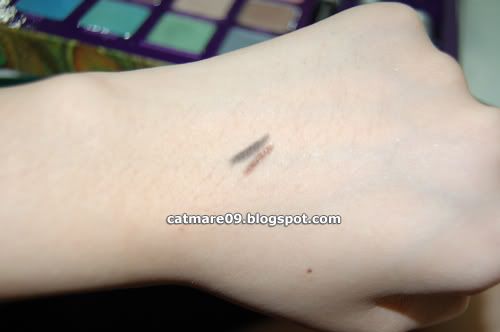 I'm not disappointed, the reviews were right. This palette is non glitter-fest. The only glittery shade would be the "Midnight Cowboy Rides Again". The rest are just shimmery. Except for "Perversion" which is matte.
Hmmm I love this palette, but I noticed that some colors in this palette are not as vibrant and as pigmented as I expected. My Too Faced Neutral Natural Eyeshadow Palette's pigmentation was really awesome. So I was expecting the same from this palette... I also didn't like the shade "Perversion" (matte black) that much. The texture was just blah, I liked my NYX matte black better... IDK why, but when I applied the color on my lids I was using my Too Faced Shadow Insurance. I haven't tried it with UD's primer potion, yet. Maybe it would be so much better with it... But still, I love this palette. I love the colors. I used to stay away from bright colors but I've been experimenting with this palette lately and I'm loving the results. Been doing subtle smokey eyes, neutrals with a hint of bright color, etc.. It's great!
Rating:
Good Kitty!