No matter how well you protect your skin, sun, stress and pollution bring daily damage. Now a potent moisturizer works overnight to deliver a unique complex of eight rapid and delayed-release antioxidants that defuse this free-radical activity. Helps keep skin strong and prevent visible signs of aging. - Clinique.com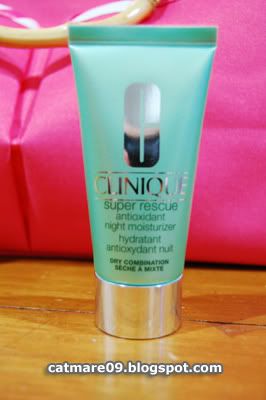 I have a combination skin that is kind of dry in a cold weather and is slightly oily in hot/warm weather. I always do my Clinique 3-step-skin system every morning and at night. But for the last 2-3 months, I have started using
Clinique's Turnaround Concentrate
as an additional morning routine. And at night, the
Clinique's Super Rescue Antioxidant Night Moisturizer
.
On my previous post, I have reviewed the Turnaround Concentrate and gave it a very good rating because I just truly love the product. And now, I am going to rave about the Super Rescue Antioxidant Night Moisturizer.
I've been a little skeptical in trying new products ever since I went anti-aging-skin-care crazy the past months. I like to try new stuff and most of them gave me tiny red bumps, allergic reaction or maybe irritation I think. But then again, I braved myself and purchased the Super Rescue Antioxidant Night Moisturizer. I trust Clinique anyway, so I went for it. Because I knew I needed something more than just a basic moisturizer for my skin at night time. Something that will give more for my skin. So yeah, I've been using this for months now and so far I can say it's working well for my skin. No bad reaction or anything.
This product is amazing. It's thick but it sinks right into my skin when applied. It's not greasy at all. So that's a big plus for me, because I just hate sticky products. And one more thing, there's no flowery scent. That's one of the things I also like about Clinique products, they're fragrance free.
I can tell the difference with my skin texture and tone. It's is so much more radiant and smooth. I think I did the right choice in purchasing this and the Turnaround Concentrate. They both work so great for my skin.
The only con I can think of is that it's quite expensive. It comes in a 50ml tube for the price of $42.50 .. Hmm too small for the price right? But with this product, a little goes a long way. I've been using this for 2-3 months already and I still have a lot in the tube until now. So I don't really need to restock often.
This product is just great, I am pretty sure that my skin will benefit from all the antioxidants in it. And the protection it gives my skin today will certainly pay off in the future.
Rating:
Very good kitty!