I am totally in love with this perfume. I'm a sucker for cute packaging and I just definitely adore this one. Looks cute but rebellious. It comes in a heavy black transparent bottle and a cute crown cap in gunmetal, decorated with sparkling rhinestones that comes with a ring. At the picture below, I wore it on my pointy finger because the ring is quite too big for me. But it looks really nice.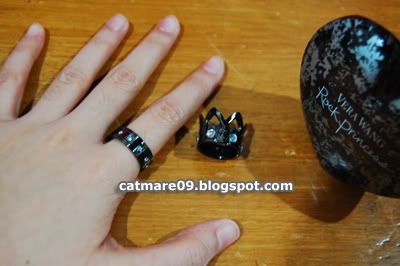 The smell is just too awesome and unique. I personally like it. I wouldn't know how to describe perfumes or how they smell. But it's a musky perfume and I love musky perfumes! And when I first spray it on, it reminds me of liquor. But after minutes of it on my skin, the smell just gets better and better.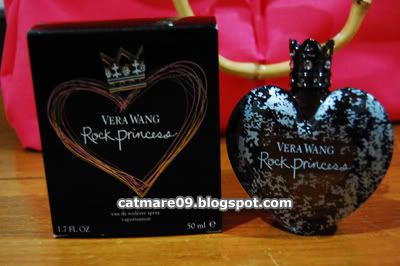 She'd trade her tiara in for a new guitar, attend a concert instead of the prom. Introducing Rock Princess, the daring new fragrance from Vera Wang. The fragrance is a dark, fruity floral with sultry attitude and modern style. It is edgy, but seductively sweet. Vera Wang Rock Princess – the music, the spirit, the new fragrance!
I really love this one. Too bad it's limited edition. I really wouldn't know how I will be able to go on with my life when I ran out of the bottle. lol.