Yesterday was another happy day for me. My brother came home from visiting his girlfriend in Canada. So I was pretty excited because I asked him to buy me some stuff. Aside from the stuff I got, he and his gf gave me nice gifts. =)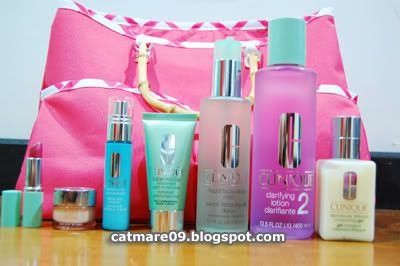 My Clinique Supply! I love Clinique's skin care. It does not irritate me (so far). And it really does work for me. I especially love their 3-step-system.
The liquid facial soap and clarifying lotion I can set aside and try other brands from time to time but the moisturizer (in gel) is just the most important one for me. It's the only moisturizer that really is non-sticky plus it does not irritate me. I've tried other moisturizers from other brands like Olay, Murad, The Body Shop, VMV Hypoallergenics, etc and most if not all gave me tiny red bumps.
I already ran out of my Clinique 3-step-system. And I've been using a couple of sample moisturizers the past 2 weeks while I'm waitinitinr my new set to arrive. The last sample I used was the Oro Gold Moisturizer (will do a review about it later), sadly it didn't work for me so I am very happy to finally get my hands on my new Clinique set.
The stuff I repurchased from Clinique:
Liquid Facial Soap Mild
Clarifying Lotion #2
Dramatically Different Moisturizing Gel
The new stuff I'm going to try from Clinique:
All about eyes
Super rescue antioxidant night moisturizer
turnaround concentrate visible skin renewer
I hope these new products will not irritate me. =) The stuff came with a
free pink beach bag
with a bamboo handle and a
free lipstick in Raspberry Glace
. The beach bag is nice, although I would prefer sample makeup and skin care over the bag =D

Here's a swatch of the Lipstick. It's a bright pretty purply pink rasberry color with shimmer.
My Mom also got the clarifying lotion, but sadly the bottle broke off. All the product inside spilled. Too bad. =( They were all inside my brother's luggage. It probably broke off in the airport as most luggages are not handled properly in there.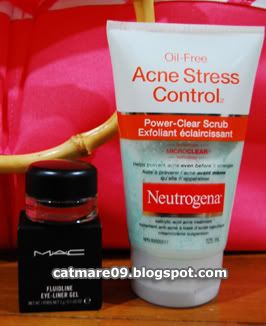 Aside from the Clinique stuff, I also got the
Mac fluidline in blacktrack
. I love eyeliners and I don't have any gel ones yet so I thought I'd get this one after reading good reviews about it.
I also got
Neutrogena Oil-Free Acne Stress Control Power Clear Scrub.
I don't have any pimple as of the moment, but I do get a few whiteheads every once in a while. Hopefully this will help. I'm planning to use this just once or twice every week. As too much scrubbing could hurt our skin.
That's all I got from my brother's trip. But aside from my purchase, he and his girlfriend got me some nice gifts =)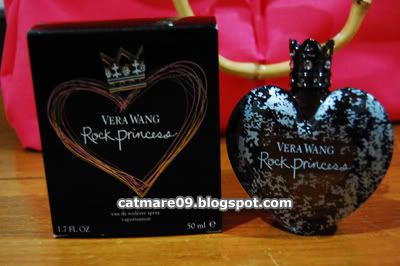 Here's their belated birthday gift for me. The Vera Wang Rock Princess Perfume! Me loves it! Love the packaging and the scent. I think it suits my personality. Lol. I can't get over it. I keep looking at it and smelling it. =)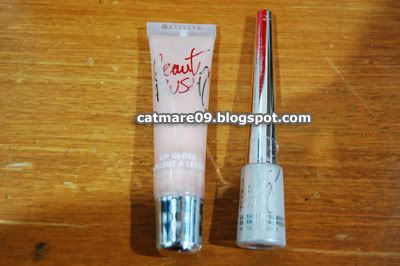 They also got me a couple of beauty stuff from Victoria's Secret.
Beauty Rush Lip Gloss in Slice of Heaven

Beauty Rush Luminous Shadow

- I haven't opened this one yet. But when I shake it, I could hear a ball inside it. lol. Don't know what it's for. Probably an eyeshadow base or something. Does anyone know? I'd really love if anyone would tell me what it is. =)
Oh and there were a couple of samples but I got only 2 of them. Gave the others to my Mom and sisters. I got the
Vera Wang Princes
and
Issey Miyake
perfume samples.
That's all for now. Hopefully I could do reviews about these soon. =)