The Ecotools Bamboo 6 piece brush set includes the following:
Blush Brush
Eye shading Brush
Eyeliner Brush
Lash & Brow Groomer
Concealer Brush
Natural Cotton & Hemp Case
At first I was confused why it was called a 6 piece brush set when there are only 5 brushes. But then I realized it's probably the hemp case that made it a 6 piece set. =D
Anyway, the thing is I am completely blown away with this set of brushes. They work so great at a great price!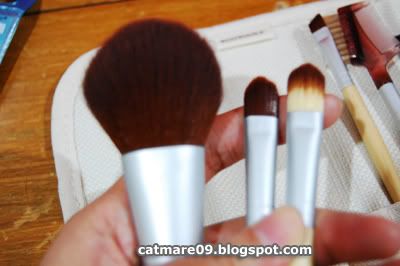 The
blush brush
is just super soft and full. It picks up the right amount of blush and it goes on smoothly without the scratchy feeling. It did shed a little, though.
The
eye shading brush
is very dense and it's great for applying and packing eyeshadow. The size of the brush is quite bigger compared to my other eyeshadow brushes.
I usually prefer using my fingers when applying concealer. But I tried the
concealer brush
and I think it works great. The bristles are very nice. It's soft and dense and it's really good for applying concealer.
The
eyeliner brush
is very dense. It's perfect for applying gel eyeliner or for setting your eyeliner with an eyeshadow. I love it! I would say, it beat my Fanny Serrano eyeliner brush hands-down.
I took a picture of it next to my Fanny Serrano eyeliner brush (on the left). As you can see Ecotools is wider compared to Fanny Serrano. And the bristles? Ecotools is so much more dense and thick. It also picks up and apply thicker and more color. While Fanny Serrano is just quite a bit too thin and it takes a bit more time to make an intense line color. Fanny Serrano is my first angled eyeliner brush, and I thought it was good and I had no other brush to compare it with. But I think it's still nice if I want to apply a thin line. Okay, so maybe Ecotools did not totally beat my Fanny Serrano eyeliner. I guess they serve diff purpose and it depends on how thin or how thick you want to line your eyes.
The
Lash and Brow Groomer
, well honestly I haven't really tried this one yet. So I don't know. I think it's just like the same as the others. =D
So yeah, my personal favorite from this 6 piece set is the blush brush and the eyeliner brush. The cotton & hemp case is also nice. Great for travel. It's my first brush case ever. =D
The
Ecotools Retractable Kabuki Brush
is just SUPER soft and dense. It's good for buffing and also for blending. I carry it with me everyday and I use it to retouch my powder foundation and blush. I just love how soft this brush is. The only con is that, the aluminum casing gets scratched easily.
Aside from the awesomeness of these brushes, they are also 100% cruelty free! =)
Overall rating
: Good Good Kitty!