I am new with Kate products, but I think I've heard about it before. Kate is a brand under Kanebo and it carries a wide range of cosmetics that are priced lower than Kanebo and is specifically targeted for the younger market.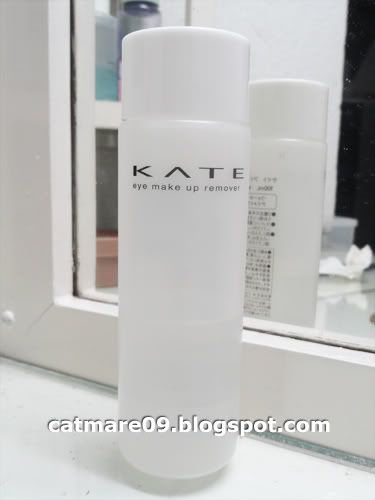 I got me this bottle of Kate Eye Makeup Remover from a Donki store when I visited Japan. I got it because we transferred from Osaka to Tokyo and they had to ship our luggage. Unfortunately, I forgot to carry my make up remover. But I was lucky enough to have spotted the Donki store and found this.
As you can see, Kanebo is printed on the upper part of the bottle.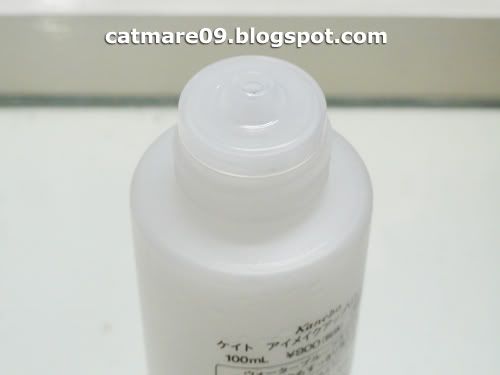 I like that it doesn't have a heeeuuuge opening. I can control the amount of product that comes out from the bottle.
The day I decided to take photos on how this makeup remover works, I had my MUFE Aqua Eyes waterproof eyeliner on my upper lid and my Maybellin Vollum' Express Magnum waterproof mascara.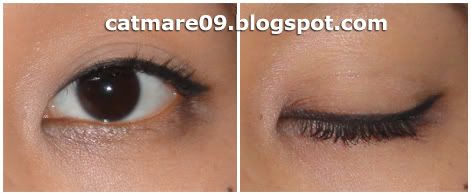 Before I removed my eye makeup.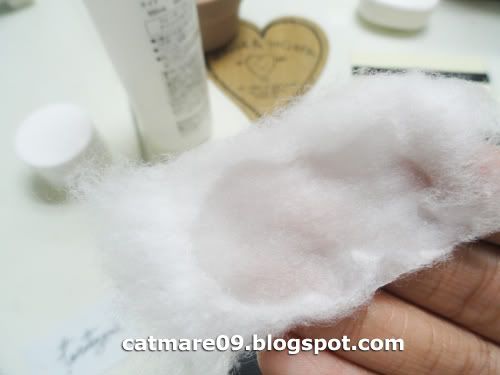 I shake the bottle and soak up a cotton with the makeup remover.
After lightly pressing and letting the cotton sit on my eye for about a minute, you can see that it melted off my eye makeup.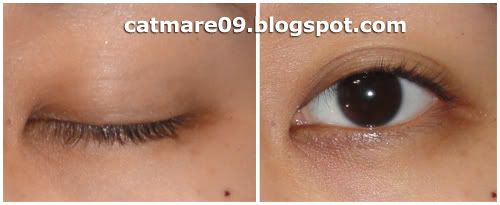 I gently pat on hard to reach areas to thoroughly remove all makeup. With a light patting motion, I wipe it off with tissue.
I like this makeup remover. It melts off my eye makeup pretty well and it does not leave any oily residue. But I noticed that sometimes, it stings my eyes a little bit but it doesn't bother me that much. So it's okay. The bottle has a price at the back and it costs 900 Yen, although I got this for a cheaper price because it was on sale that time.
Tips on removing eye make up:
Be as gentle as possible. Avoid tugging and rubbing vigorously on your delicate eye area as this may cause damage and loss of elasticity.
You might think soaking up a cotton is wasting a lot of product. But IMO, it works better that way. It melts off your makeup better without having to rub your eyes, hence avoiding pre-mature wrinkles.
Try reducing the size of your cotton, so you won't have to soak up too much. Less product usage.
Rating: Good Kitty!