I purchased this about a month ago. I have never tried Skin Food skin care products prior to this one, so I was curious. I thought I'd give it a try. And after weeks of using it, here's what I think about it.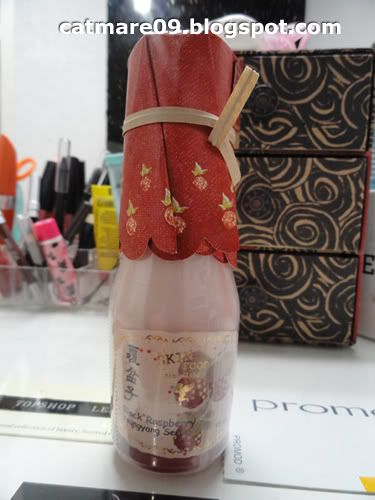 Know more after the jump!
From Skinfood website:
This moist, high-nutrient herbal medicinal serum contains revitalizing black raspberry extract, and jayangboeumdan (滋養補陰丹) and cheongyeondan (淸連丹) extracted from 12 kinds of oriental medicinal herbs, to provide nutrition and deep moisturization to skin.
Use: After toner, apply desired amount and press gently to absorb.
Aside from medicinal herbs this product also contains anti-oxidant which is good for the skin. I've read so many times that antioxidants are good to keep your skin healthy and prevent premature aging. I've asked people on what's a good anti-aging product and they always tell me to look for something with antioxidant. So I thought this is worth a try.
As for the packaging, it's really cute. The bottle itself is made of glass while the cap is made of cardboard. It's also nice that it comes in a pump bottle, it's hygienic to use than dipping your fingers in a jar.
The product smells like Chinese ginseng? It might bother you but honestly it doesn't bother me at all. I prefer it than floraly scents. Well, the truth is, I actually love the scent! Might be weird of me. IDK why. But I like it.
The texture is kind of like a lotion, and it takes a while before it sinks into my skin. But after it does, my skin feels smooth and moisturized. Just to let you know, I only use this at night after my toner.
This didn't break me out or anything. So for it's been nice to my skin. Currently loving this so much :)
Rating:
Very good kitty!