Hi everyone!
Today, I'm going to begin a new segment on my blog that is targeted for men. There are a lot of products in the market that are made for their different needs. Acne, anti-aging, whitening, and the list goes on. I personally think that men should also be conscious and aware about their skin and the products they are using.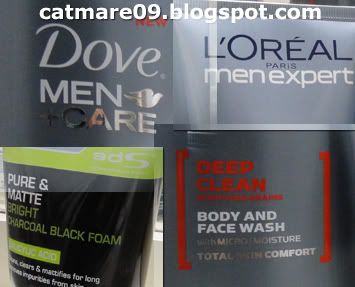 More info and haul after the jump!
Lately, I noticed that our local counter have been filling up with a lot of men products. There's Nivea Men, L'oreal Men Expert, Dove Men, and I think Vaseline has a line for men now too. My boyfriend have been using some of the products from these lines. And I just thought it would be great if we could also share his experiences with these products. I told him my idea and asked if it's okay to bug him with questions every once in a while about the products he's using. I'm glad he agreed and he was more than willing to help me. :)
There might be a few men readers out there who might be interested, or even ladies who are thinking of what skin care products would be good for their boyfriend, husband or brother. So every now and then I will be posting reviews and maybe even hauls for men. And it's going to be labeled as "Men Solutions"
To start with, here's my boyfriend's mini haul. lol! :)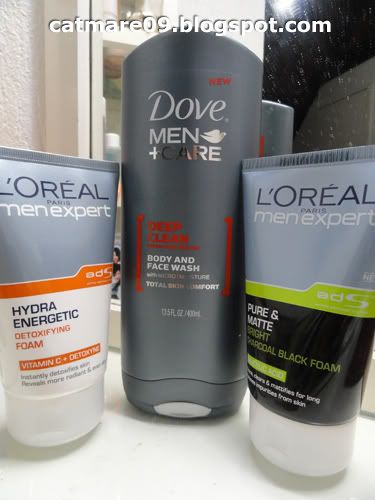 He got some stuff from Watson's:
1.) L'oreal Men Expert Hydra Energetic Detoxifying Foam
2.) L'oreal Men Expert Pure & Matte Bright Charcoal Black Foam
3.) Dove Men Care Deep Clean Body and Face Wash.
If I'm not mistaken, the L'oreal Detoxifying foam is already his third tube. He likes this facial cleanser and I told him I want to do a review about it so I asked him a bunch of questions. lol. So if you're interested, watch out for that upcoming review. :) The other two products are both new to him and he wanted to try them.
And because the Etude House Happy Teatime Green Tea Cleansing Foam is not available at the mall near my place, he checked the mall close to his office and look what he found!
Yay! I'm glad he got this for me. Can't wait to try :)
So that's it for today. I hope you guys enjoyed this post. And I hope my upcoming "Men Solutions" post will help guys out there. I'm very excited about it! So yeah that's it for now, have a great week ahead!