I love red lipstick! I actually prefer it than wearing nude or neutral colors. I feel like a red lip instantly brightens up my face.
Today I'll share two lipsticks I own from the brand Urban Decay. I have them in the shade Voodoo and Gash.
Read more after the jump!
I am the type who's really crazy about cute packaging. With Urban Decay, the first thing that caught my attention is their unique packaging. I guess we all know that about Urban Decay.
See how cute the packaging is? I love the dagger and the print.
Like I mentioned, I love red shades when it comes to lipstick. The first Urban Decay lipstick I purchased was Gash, because I've always wanted a really deep dark red lipstick. And this is exactly what I was looking for. It's a full coverage deep bloody red color, which I really love. I often use this when I do neutral eyes. It's a matte lipstick so it can be drying. But what I usually do is apply lip balm before this to avoid dryness.
Because I was so pleased with Gash, I decided to get Voodoo as well. It's a dark pinky red shade with a bit of sparkle but it's not as opaque as Gash. It's actually kind of sheer but the color is buildable. I also like this shade. I noticed that I've been using this as my everyday lipstick in the past couple of weeks :)
Swatch without flash
Swatch with flash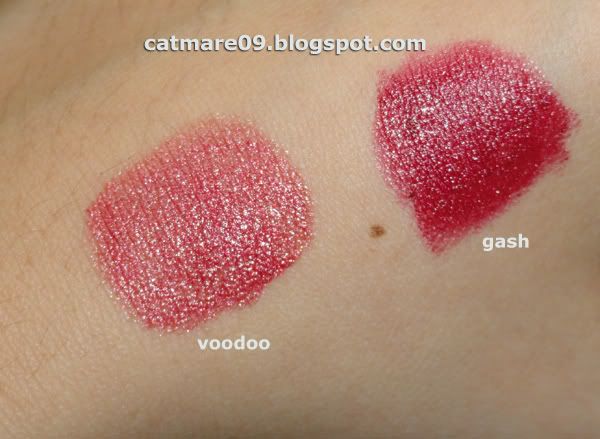 The staying power is good.
I got Gash for $22 in the US and I got Voodoo in Macau and I can't exactly remember how much. They are quite pricey. But with such a pretty packaging and lasting power, it's a good buy. Hopefully I could get more shades soon. :)
Rating:
Very good kitty!