I am very particular about my hands. Months ago, I noticed that my hands are starting to get kind of rough because I give bath to 7 of our dogs! Imagine 7! That's a lot. But actually they're just chihuahuas. So they're not that big. But still, I think all the water and shampoo are drying up my hands... Good thing I had Bliss High Intensity Hand Cream!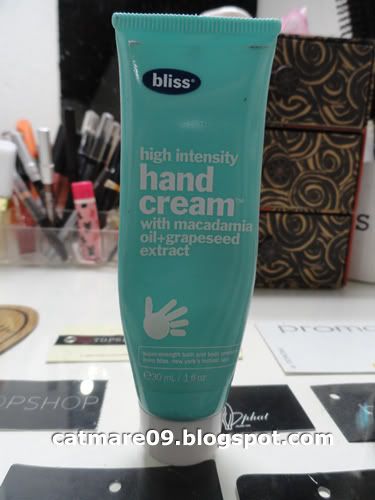 "Supreme softening and surface smoothing make this ultra-rich hand balm a bestseller. Silky but grease-free, it smoothes rough cuticles too."
This is probably the best hand cream I have ever used. It worked so well for me. It definitely made my hands super soft and smooth again. It had a slight lemon scent to it. Which I liked because I prefer that kind of scent instead of the floral ones. I also liked how silky smooth it felt, definitely no greasy or sticky feeling after application.
The tube I got is just the "to go" size (1 oz) and it costs $8. Quite pricey really, but it worked wonders for me so I believe it's worth it. Sadly, I already ran out of the product. If I could repurchase, I would. But sadly, my bro-in-law who used to get me stuff at Sephora is no longer in the US. :( I'm hoping I could acquire this again soon.
Rating:
Excellent Kitty!