Hi everyone! I just thought I'd share what's inside my kit. I don't really carry so much. Just a few basic things I use from day to day. My lip products and blush changes daily depending on what I feel like wearing. :)
My makeup bag! I got it from Sanrio Puroland when I visited Japan. So cute. :)
Currently what's inside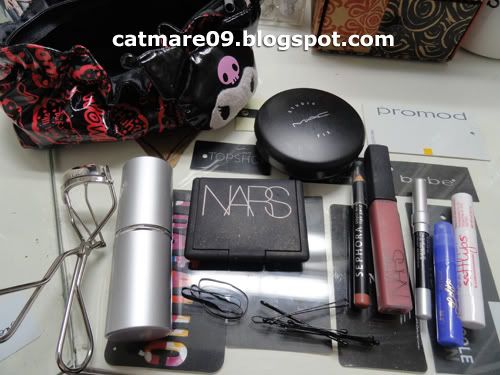 What's inside:
1.) Shiseido lash curler
2.) Ecotools brush
3.) Nars blush in Orgasm
4.) Sephora lip liner (Natural, I think)
5.) Nars lipgloss in Pillow Talk
6.) Urban Decay 24/7 pencil in Zero
7.) Lolita perfume sample
8.) Softlips cherry
9.) Mac Studio Fix NC40
10.) hair pins
11.) black rubbers
I always make sure I carry some hair pins and black rubbers with me. Because there are days when my hair just won't cooperate so I just tie it or something. :) So yeah, that's all. Hope you enjoyed!