Hi everyone! Here's a little peek on my Japan trip plus haul.
My trip to Japan is just awesome. I love the place, it's super clean and beautiful. I love the people, they are all very courteous. We joined a group tour and our schedule was tight. It was tiring but still fun. I just wish we had more time to shop. Before I share my mini Japan haul, I'd like to share a few photos with you guys from my trip. It's memorable and I'd love to visit Japan again!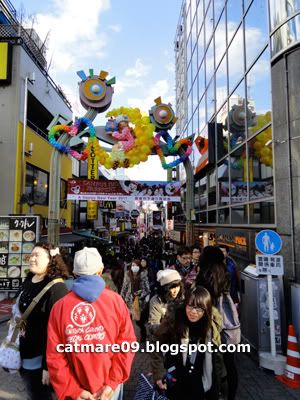 And guess what, most (if not all) of the hotels we stayed are carrying Shiseido products on their toiletries. From Shampoo, body wash, to facial wash. Everything's Shiseido. Amazing isn't it?
And now for the haul, I didn't get to buy a lot. We were always in a hurry and we didn't have enough time to shop. It felt like we were in the Amazing Race or something... Anyway, I decided that I'm just going to include the makeup and skin care products I bought. I'd love to share some of the good fashion finds I got from Japan but most of them are in the laundry bin because I have already worn them. So yeah, here they are!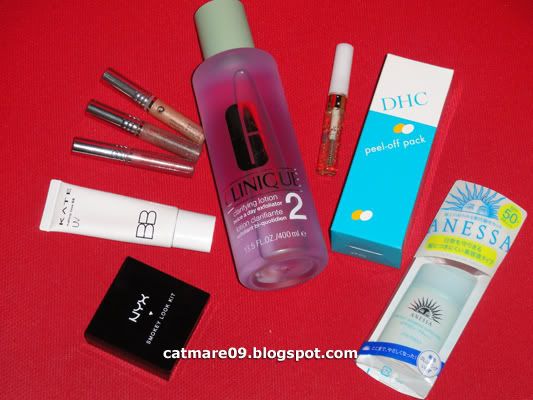 1.)
Clinique clarifying lotion #2:
My staple toner. I needed to restock because I was running out of it.
2.)
Clinique long last glosswear SPF 15:
I got three in Bonfire, Knockout Nude and Goldspun. The pack came in 5. I gave the other 2 to my sister.
3.)
NYX Smokey Look Kit
: A mini palette that contains 9 shadows and 2 lip glosses.
4.)
Kate BB Makeup Base:
Kate is a product of Kanebo. It is targeted for the younger market, I think. This has SPF as well but I forgot how much SPF. It was on the box but I threw it already. As far as I can remember, it was around 32 or 35.
5.)
Kate Makeup Remover:
Forgot to include this in the picture. But I bought this because there was this one time when we had to move from Osaka to Tokyo via bullet train and our luggage were shipped. Our stuff didn't arrive until the next day and I forgot to carry with me my makeup remover, lucky enough there was a store that had beauty stuff and got a hold of this.
6.)
Shiseido Anessa Perfect Essence Sunscreen SPF 50 PA+++:
I was looking for
this sunscreen
, unfortunately I don't think they carry it in Japan. The SA recommended this to me. They came in three kinds. Waterproof (for heavy duty use I think / for sports or swimming), Pearlized one that gave a pearly effect on your face, and the one I got which is for everyday use.
7.)
DHC peel off pack:
I just though I needed to use some mask for my face. I never tried one before so I thought this would be a great try.
8.)
DHC Eyelash Tonic:
It's supposed to make your lashes thicker and stronger. I've been using this for weeks and it seems to be working! I seriously love it.
I wish I researched about DHC before I went to Japan so I know which items I should get. They seem to have a whole lot of amazing products but I don't understand what's written on their boxes. It's quite difficult to guess what they are for lol. But the SA's are nice enough to really try to explain what they are for. I also wish we had more time to shop so I can concentrate on my shopping. You know how difficult it is to shop when you know you're running out of time. lol.
So yeah. That's my haul from Japan. I will do more in depth reviews on these items once I have used them for a while. Have a great weekend everyone!