What do I use to fill in my brows?
I used to be contented with just using my eyeliner for my brows. I wouldn't put much, just a bit to fill it in and then I'd smudge it so it wouldn't look too obvious. Then I tried using eyeshadows. I often use black eyeshadow, I know black wouldn't look good if you put too much so I just apply a little bit just to fill in the sparse areas. Sometimes I use NYX Rootbeer (but I feel that it's a bit brown for me so it's kind of obvious so I try adding a bit of black shadows so it wouldn't be too brown). I also use Sexpresso from my Too Faced Neutral Palette and I think the color is good for my brows. Not too black, not too brown... Then again, I still wanted to try a real brow kit. Months ago, I purchased ELF brow kit in Dark. But I was disappointed. I am NC40 and I felt that the color was kind of reddish when applied on my brow. Definitely not good. I felt it didn't look too natural on me. So yeah, I didn't even bother using it again. In case, you'd like to see here's a photo of my ELF browkit + swatch.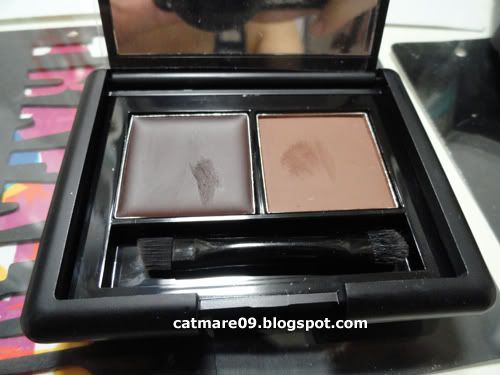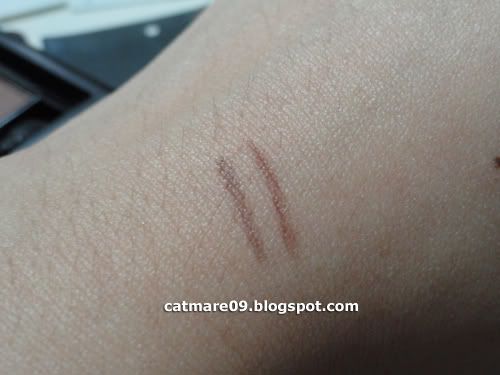 Disappointed with ELF, I went back to using my eyeshadows to fill in my brows. But of course, the search for the perfect brow kit isn't over.. So during my first visit to Etude House, I spotted this "Perfect Brow Kit". They actually had two brow kits, the other one was like ELF it was in wax/gel form. But I got this one instead. I think it costs around PHP 478.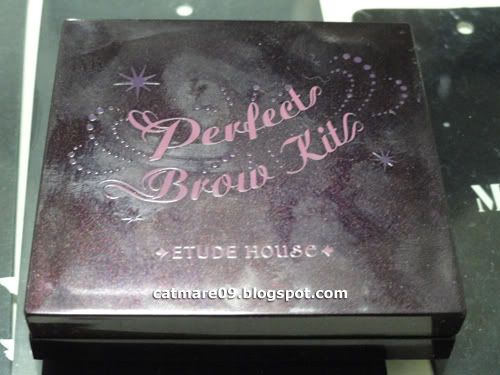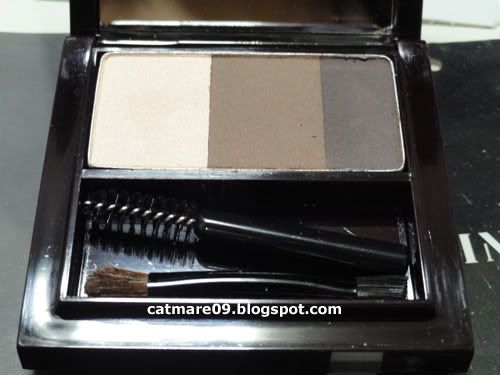 It has three shades. I suppose the light cream colored one is used as a highlight for the brow bone. I'm not quite sure what the middle shade (lighter brown color) is for. But what I have been using to fill in my brow is the 3rd dark brown color. And I am in love with it! It's the perfect color for me. Not too brown, not too black. Even if I put a lot, it wouldn't make me look like Bert from Sesame Street. It's just perfect. Definitely the right shade for me.
The packaging is also cute. It also comes with a brow brush and a double ended fluffy and angled brush. I personally wouldn't use the angled brush from the kit because I think it's too thick. It makes thick lines (as you can see from the above swatch) so it's quite difficult for me to maneuver it on my brows lol. Anyways, aside from that, I'm just really loving this kit.
I'm still clueless though about what the middle brown color is for. There's an instruction at the back of the box. But I have no idea what it means because I don't understand Korean. The saleslady told me that the first two shades are eyeshadows while the third one is the one used for the brows. I kind of doubt it because the drawing behind the box doesn't show anything being applied on the eyelid.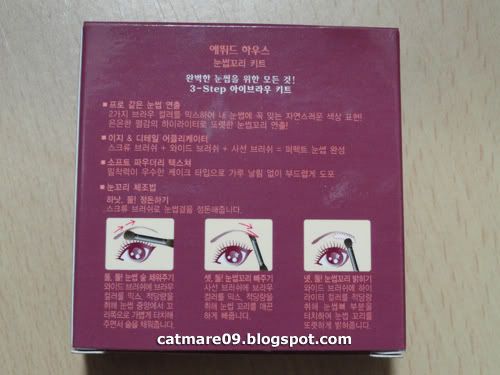 Anyone knows what the middle brown color is for? Or anyone understand these instructions? I'd def appreciate any input. Thanks in advance.
Rating:
Very good kitty!