Before I discovered (from
Thiamere
)
The Face Shop's Nail Enamel Remover
, I've been using Acetone to remove my nail polish. It does the job but there are a lot of reasons why I would stick with TFS Nail Enamel Remover than go back to using Acetone.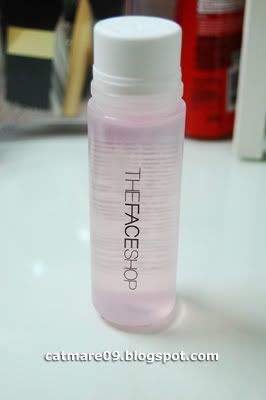 Reasons why TFS Nail Enamel Remover is better than Acetone:
1.) The smell is delicious. Smells like strawberry.
2.) It's very gentle. Unlike acetone, it does not leave my nails dry. I think it actually somehow hydrates them. Which I think is really good and healthy for my nails.
3.) It removes nail enamel faster and completely clean... With acetone, it takes a lot of wipe and cotton balls to take off the color. Ever had black polish on? When I use acetone, the color kind of smears on my skin and somehow still leaves a dark tint on my nails. But with TFS Nail Enamel Remover, it's effortless and does not smear at all. A single cotton ball is usually enough for all 10 fingernails.
I know that TFS Nail Enamel Remover is much pricier (I think PHP 95) compared to Acetone. But seriously, you get what you pay for. Actually you're saving so much more. Because a little goes a long way. Plus it keeps your nails healthy. So def worth every penny.
Rating:
Very good kitty!