Okay, so I went to a concert last Saturday. It's a heavy metal concert so I thought I'd do a bit of a dark look. I have never worn a smokey look out of the house before so I was excited because it was my chance to wear one. So yep, I came up with this look. I think it's a bit neutral with a dark edgy feel to it. Simple and easy. =)
Sorry if the images are not that clear, I was using my cellphone as I was charging my digicam the time I finished my makeup. And I just completely forgot about taking a closer shot when I was out because of my excitement. lol.
With a clean and moisturized face and eyes, I applied my Urban Decay Primer Potion on my lids to help make the eyeshadow last and give a better color payoff.
1.) Using my ELF eyeshadow brush, I applied NYX eyeshadow in Luster (neutral silvery taupe color) on about 3/4 of my lid starting from the inner corner.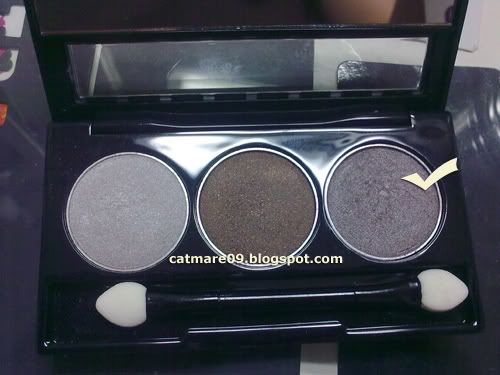 2.) Using my ELF blending blush, I applied NYX eyeshadow in matte black and applied this on the outer corner of my lid, gently blending it in.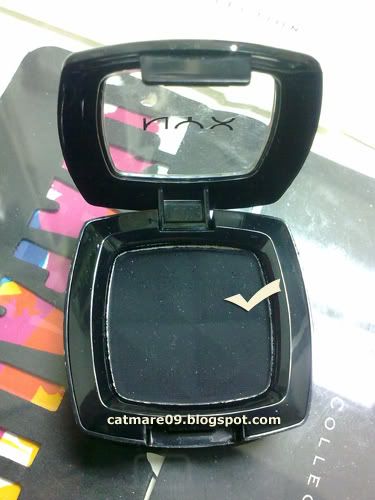 3.) Using my ELF Studio crease brush, I applied a more concentrated color of black on the outer corner to give more depth.
4.) I applied Heaven (matte cream color) from my Too Faced Neutral Palette as a highlight.
5.) I applied MAC fluidline in blacktrack on my upper and lower lashline instead of my regular everyday pencil eyeliner because this stays put longer and better.
6.) And for my lashes, I applied Covergirl Lashblast in Very Black on both my upper and lower lashes.
7.) I had neutral lips and I used Loreal's lip liner in neutral and topped it with Victoria's Secret Beauty Rush gloss in Slice of Heaven.
And the finished look


So there you go. I think it turned out well. And I also liked all the products I used, they stayed on pretty well for more than 8 hours plus all the sweat from the jumping and screaming during the show. lol. The concert was awesome! I had a great time!

So that's it. Thanks for reading! =)