I've been using a couple of Benefit Full Finish and Silky Finish lipsticks lately. And I love love them! They are just so pigmented and creamy. I so love the texture. So smooth when applied and it does not dry my lips. Good staying power and it fades naturally without leaving an ugly line on the edge of my lips.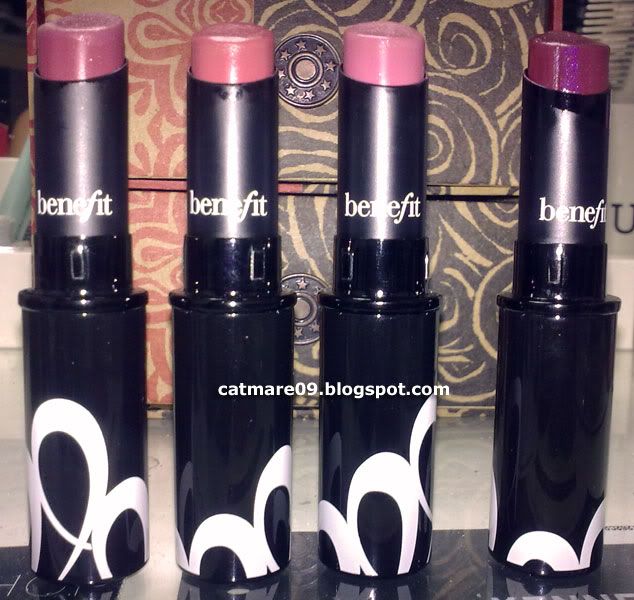 Here's a list of the Benefit lipsticks I currently own. I'm not really good in describing colors so I provided swatches below.
Full Finish
(full coverage lipstick):
1.) No Competition - love this color. I'm not sure how to describe it but I think it's a deep rosey plum color.
2.) On the Sly - color is pretty. Has a peachy pink color, I think.
3.) Do Tell - pink with blue undertone. this color does not look so good on me because I have warm undertones, so what I do is I apply this with a warm colored lip liner or gloss.
Silky Finish
(sheer coverage lipstick with buildable color):
1.) Ms. Behavin' - Okay I'm a bit embarrassed to admit this, but the reason why I got this was because it's the same lipstick used by Edward and all other vampires in the movie, Twilight. lol... Actually, I was a bit hesitant at first because I thought it was too dark and it was purplish/violet-ish, but I got it anyway. And I don't regret buying this at all. The color is just gorgeous! The color really looked nice on me and it made me want to purchase more mulberry/dark berry lipsticks. I used to be afraid of one, but not anymore. =) The color is actually very pigmented. I sometimes just dab my finger on the lipstick and apply it on my lips. But if I want a darker edgier lip color, I directly apply it on my lips. I like how smoothly and creamy it goes. Like it melts on my lips. I love it. This is one of my fave lipstick as of now. I wear this a lot. =)
And now for the swatches:
without flash
from L-R: No Competition, On the Sly, Do Tell, Ms. Behavin'
with flash
from L-R: No Competition, On the Sly, Do Tell, Ms. Behavin'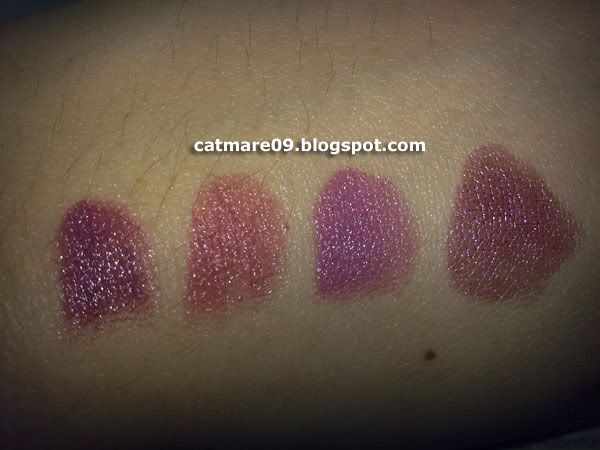 So that's it. I am definitely repurchasing (particularly Ms. Behavin', No Competition and On the Sly) and I am looking forward in trying out other shades, too. Definitely loving Benefit!
Rating:
Very very very good kitty!