This is my first attempt to do an eye-makeup that is not neutral. I don't know if this is good enough. But I am quite happy with the result. =) The camera must've washed out the colors a bit because it didn't came out as vibrant as it's supposed to be. *sigh* But it's kinda close. Anyway here it is. Sorry if it's quite messy, I forgot to brush off the fallouts before taking a picture as I was in a hurry.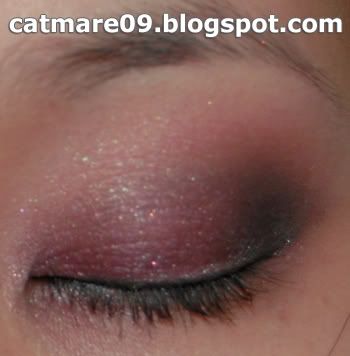 How I applied the eye makeup
1.) I applied NYX eyeshadow in Burgundy Pearl on about 3/4 of my lid (starting from the inner corner) using my ELF eyeshadow brush.
2.) Using my fluffy NYX crease brush, I applied the deep dark plum shade from Loreal's HIP Duo in Sculpted on the outer part of my lid gently belnding it inwards and on my crease.
3.) Using the same brush and shade, I slightly dabbed the brush over the Burgundy Pearl color that I have applied on Step 1. Just to make the shade darker, but still leaving a hint of bright burgundy under it.
4.) Using my ELF blending brush, I applied the rosey plum color of Loreal's Hip Duo in Sculpted on the upper part of my crease blending it over the deep dark plum color I applied on Step 2.
5.) And for the highlight, I used my ELF blending brush and applied the color Heaven (matte cream) from the Too Faced Neutral Natural Eyeshadow Palette.
I applied some Maybelline Smooth & Vivid Eyeliner in Black on my upper and lower lashline. Then I curled my lashes and applied VMV Hypoallergenics Ooh-la-lash mascara.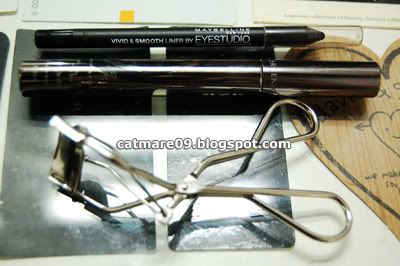 Here are the brushes I used. Except for the crease brush, please ignore it. I didn't use it. I made a mistake in the pic, and I'm just too lazy to take another shot. lol.

So that's it. I would be very glad to receive comments or suggestions. I am new with the whole eyeshadow thing and I would love to learn from you guys. Thank you =)